Benefits of Choosing BIOESQUE® Botanical Disinfectant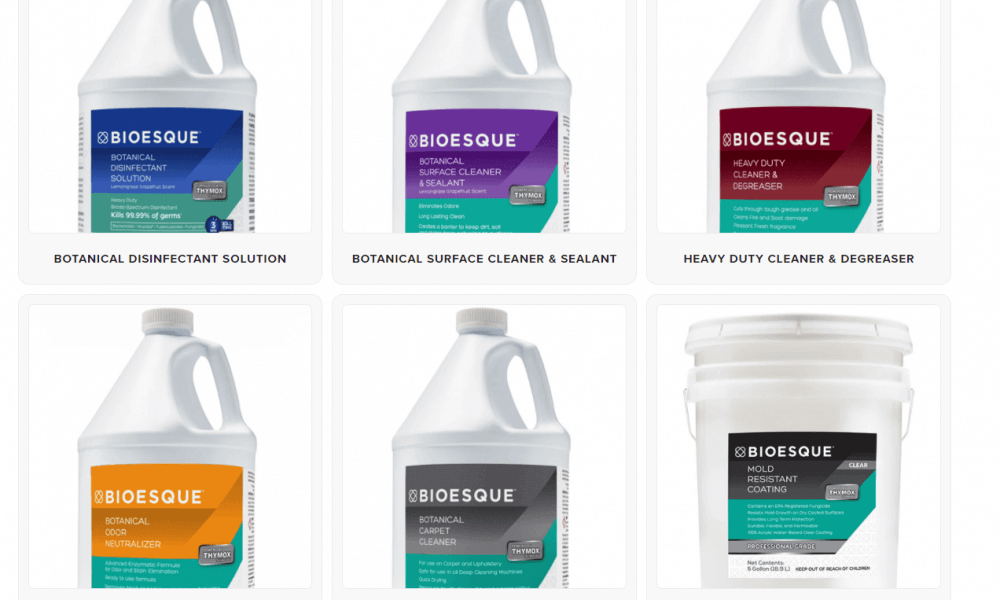 The market is crowded with dozens of different options for consumers to consider when comparing household and commercial disinfectant products. Cost and ease of application are two features that help make an informed decision, but other concerns about overall safety and sustainability also have weight. Finding an effective disinfectant that is botanically-based is important to many business owners for one or more of the following reasons.
EPA Registered As Broad Spectrum Disinfectant
BIOESQUE® Botanical Disinfectant earned its designation as a disinfectant after review by the Environmental Protection Agency (EPA). No product legally can claim to be a disinfectant until the EPA has reviewed its composition, safety and efficacy concerning the organisms it can kill. BIOESQUE® is registered to kill bacteria including some that cause food poisoning, like E. coli and Salmonella. It is appropriate for use during water damage and sewer backup remediation jobs. Hospitals and other healthcare facilities can employ it as a one-step disinfectant for a range of applications.
No-Rinse Multi-Surface Cleaner
Even when used in food contact areas BIOESQUE® Botanical Disinfectant requires no rinsing. It is effective when used on a wide range of household and commercial surfaces, both porous and non-porous. Glass, chrome, stainless steel, porcelain, vinyl, ceramic tile and grout are some of the materials cleaned and disinfected successfully with BIOESQUE®.
Non-Abrasive And Warning Free
The ingredients comprising BIOESQUE® Botanical Disinfectant require no signal words or other warnings to indicate hazards to health or well-being. Personal protective equipment is unnecessary during the administration of the solution.
Derived From Thyme Oil
Thymol, a component of thyme oil, is the active ingredient of BIOESQUE® Botanical Disinfectant Solution in the BIOESQUE® restoration and remediation supply Botanical line. Thyme oil comes from an herb long-used as a food preservative and designated as a GRAS (Generally Recognized As Safe) molecule. It is listed as an appropriate food additive in many countries around the world and can be used in as a 25b Minimal Risk Pesticide.
Disinfection Action
Thymol kills microorganisms by inducing instability in their cell membranes. The cell membrane breaches and its contents release, destroying the virus, bacteria, fungi, or other organisms.
Surfactant Assistance
Plant-based surfactants in BIOESQUE® Botanical formulations aid in the mechanical removal of contaminants from targeted surfaces and materials. They stabilize the treatment solutions while making them more efficient in removing debris.
Bioesque® Solutions offers household and commercial grade disinfectant options that are effective, appropriate for daily use, and botanically derived. Consumers looking for an alternative to harsh chemicals need not settle for inadequate disinfection when they discover and use our products.
Check out Bioesque® Solutions restoration industry cleaners.