Actions You Can Take Now To Prevent Water Damage in Your Home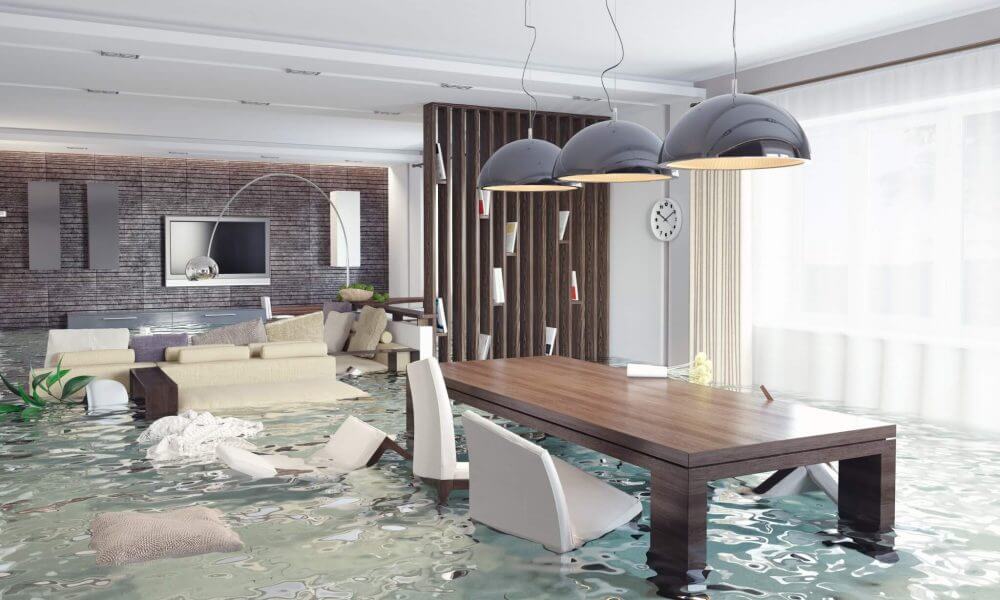 Water damage can do an overwhelming amount of destruction in Chicago. Even small leaks in your Cook County home can lead to serious structural damage if left alone. You need to be proactive about preventing water damage. You can do several things today to protect your home from the flood disaster.
Actions to Take In Your Kitchen
You need to start by looking at the appliances in your kitchen. Your kitchen can potentially be a major source of water damage in the home. Begin by checking the floor around your refrigerator and dishwasher. If there are puddles or moisture, then have the appliance repaired by a professional immediately. Check the connections to your dishwasher and ice maker. Keep those connections tight to prevent leaks.
Protecting Your Bathroom
The bathroom in your Chicago home can be another location where water damage might occur. Check around your sinks, tubs, and toilets for signs of leaks or damage. Make repairs right away if you find anything. Look at the grout and seals around your tub. If it seems dry or cracking, then replace it. Be cautious about what goes into the toilet to prevent clogs that will flood the home. You also need to examine your fixtures for signs that there are leaks that could potentially cause water damage over time.
Major Appliances in the Rest of Your Chicago Home
You must inspect the other major appliances in your home on a regular basis. Examine the hoses connecting your washing machine to the water supply. If you see swelling, cracking or corrosion, then replace the hoses immediately. Choose braided hoses rather than simple rubber ones. You will also need to look carefully at your water heater. Check the entire unit searching for corrosion, dents or small leaks. Replace your water heater if it is damaged or if it is more than 15 years old.
Check Your Plumbing for Leaks
You should check your plumbing for leaks that are not obvious once a month or every few months. Start by turning off all the faucets, appliances and water values in your home except for the mains. Wait for at least one hour to pass. Go to your water meter and see whether it is showing that water is still being used. High water usage indicates that you presumably have a leak somewhere. Call a plumber in the Chicago area to inspect your plumbing if this occurs.
Install and Maintain Sump Pumps
One of the most effective ways to protect your home from water damage is with sump pumps. You want to install a sump pump in your basement or the lowest floor of your house. Install a backup sump pump as well in case the primary one fails or a large amount of water enters the home. You also need to inspect and maintain the pumps so that they are always ready for action. Have your sump pumps replaced or professionally serviced at least once every decade.
Take Care of Your Roof
Complications with your roof can allow water to pour into your home whenever it rains or snows. This water can cause massive amounts of damage to the structure of your house in a short time. Keep your roof clean by removing any debris such as fallen branches. Visually inspect your roof each season. If you see signs of damage, then contact roofers for repairs. Check your attic for signs of Chicago Water damage as well. Additionally, keep your trees pruned back so that they do not come into contact with your roof.
Watch Your Gutters and Downspouts
Faulty gutters and downspouts can allow water to pool on your property and damage the foundation of your home. You want to inspect your gutters every season. If there are loose brackets, holes or other problems, then fix them as soon as possible. Clean the gutters regularly and install gutter guards. Make sure the connection between the gutters and downspouts are secure.
Be Prepared For an Emergency
A final step is to be prepared for an emergency. You want to have the number for a water damage restoration company available. This will allow you to restore your home to normal very quickly. You also want to learn where the water mains are in your home so that you can shut them down in an emergency. If you are prepared for an emergency, then you can minimize or prevent any water damage.
servpro dallas
water removal dallas
water cleanup dallas
flood damage dallas
fire damage dallas
mold damage dallas
water damage dallas
servproevergreenparksouthchicagocity.com
https://www.servproofmarquetteparkwestlawnfordcity.com/


Read more on the Challenges Chicago Property Owners May Face When Flooding Occurs 
URL
https://www.servprocanogaparkwesthills.com/before-after-photos/photo/8bd0094f-9646-4969-89ed-999a18a76ee1/fire-smoke-damage-restoration/fire-damaged-west-hills-home
https://www.servprocanogaparkwesthills.com/video-content/video/8551236e-fde3-4074-81df-c98b86d3f36d/storm/canoga-park-flash-flooding-cleanup-from-servpro
https://www.servprocanogaparkwesthills.com/damage-inspection-assessment
https://www.servprocanogaparkwesthills.com/biohazard-cleaning
https://www.servprocanogaparkwesthills.com/before-after-photos/photo/1b9f088b-fab5-40dd-8205-43d96b2b5f26/mold-removal-remediation/mold-damage–canoga-park-home
https://www.servprocanogaparkwesthills.com/before-after-photos/photo/2264ce4a-fa90-489a-8c61-e2e45fa6076f/commercial/canoga-park-flooded-service-area
https://www.servprocanogaparkwesthills.com/before-after-photos/photo/6a71a046-9a6c-49e3-b0d3-4ab6aa0fb40e/mold-removal-remediation/mold-damage–canoga-park-home
https://www.servprocanogaparkwesthills.com/before-after-photos/photo/1e0b5a4e-0721-4be5-89f4-77b0f107c211/storm/canoga-park-storm-damage-and-flooding
https://www.servprocanogaparkwesthills.com/before-after-photos/photo/e5c1c9c9-c9aa-4238-a723-f8e60ae6a151/storm/storm-induced-damage-to-a-canoga-park-kitchen
https://www.servprocanogaparkwesthills.com/before-after-photos/photo/b9295354-79bd-45d2-80cf-852895ccd0a0/fire-smoke-damage-restoration/fire-and-smoke-restoration-in-west-hills
https://www.servprocanogaparkwesthills.com/blog/post/187999/storm/limiting-the-damages-left-in-a-property-after-flood-damage-incidents-in-west-hills-
https://www.servprocanogaparkwesthills.com/before-after-photos/photo/fb9dd29f-db4e-4c95-802b-9e4b67c334b2/why-servpro/canoga-park-water-and-mold-damage
https://www.servprocanogaparkwesthills.com/blog/post/250697/why-servpro/where-can-owners-get-mold-safely-removed-from-their-canoga-park-homes
https://www.servprocanogaparkwesthills.com/before-after-photos/photo/09fa51cf-9e31-4b62-9da3-400d1a3e66b8/mold-removal-remediation/mold-infestation-in-a-canoga-park-kitchen
https://www.servprocanogaparkwesthills.com/blog/post/232500/fire-smoke-damage-restoration/my-property-has-fire-damage-how-do-i-handle-it
https://www.servprocanogaparkwesthills.com/blog/post/234629/why-servpro/which-questions-should-you-ask-mold-removal-companies
https://www.servprocanogaparkwesthills.com/blog/post/170419/storm/we-follow-the-proper-steps-to-ensure-west-hills-flood-damage-is-restored-efficiently
https://www.servprocanogaparkwesthills.com/blog/post/83970/fire-smoke-damage-restoration/caring-for-your-homes-appliances-after-fire-damage-happens-in-your-west-hills-property
https://www.servprocanogaparkwesthills.com/blog/post/208433/water-damage-restoration/what-can-i-do-about-water-damage-to-my-canoga-park-living-room-carpet
https://www.servprocanogaparkwesthills.com/blog/post/76107/water-damage-restoration/why-water-damage-incidents-in-winnetka-should-be-taken-seriously
https://www.servprocanogaparkwesthills.com/blog/post/173155/why-servpro/water-damage-restoration-in-canoga-park–why-credentials-matter
https://www.servprocanogaparkwesthills.com/before-after-photos/water-damage-restoration
https://www.servprocanogaparkwesthills.com/blog/post/138806/why-servpro/water-damage-in-canoga-park-can-be-mitigated–
https://www.servprocanogaparkwesthills.com/blog/post/15116/water-damage-restoration/canoga-park-water-damage–call-an-expert-for-advice-and-help
https://www.servprocanogaparkwesthills.com/blog/post/271510/fire-smoke-damage-restoration/need-assistance-during-fire-damage-restoration
https://www.servprocanogaparkwesthills.com/blog/post/152980/water-damage-restoration/you-can-reach-our-experts-247-when-your-canoga-park-home-experiences-a-water-damage-disaster-
https://www.servprocanogaparkwesthills.com/blog/post/127397/fire-smoke-damage-restoration/why-it-is-crucial-to-have-your-hvac-system-cleaned-after-a-fire-in-your-canoga-park-house
https://www.servprocanogaparkwesthills.com/blog/post/68161/fire-smoke-damage-restoration/crimped-cords-and-electrical-shorts-can-lead-to-fire-damage-in-west-hills
https://www.servprocanogaparkwesthills.com/west-hills-ca-mold-removal-remediation
https://www.servprocanogaparkwesthills.com/content/documents/customer_info_water09.pdf
https://www.servprocanogaparkwesthills.com/advanced-technology
https://www.servprocanogaparkwesthills.com/blog/post/79002/storm/helpful-flood-damage-technicians-in-bell-canyon
https://www.servprocanogaparkwesthills.com/fnol
https://www.servprocanogaparkwesthills.com/blog/post/266956/why-servpro/what-should-homeowners-do-when-a-water-intrusion-incident-occurs
https://www.servprocanogaparkwesthills.com/blog/post/280987/storm/is-there-flood-damage-in-your-canoga-park-home
https://www.servprocanogaparkwesthills.com/blog/post/104385/fire-smoke-damage-restoration/removing-the-effects-of-fire-damage-in-winnetka-neighborhoods
https://www.servprocanogaparkwesthills.com/video-content/video/c3274e67-05ed-4e36-9940-32b127bc47eb/water-damage-restoration/servpro-provides-rapid-water-removal-to-canoga-park-properties
https://www.servprocanogaparkwesthills.com/blog/post/242264/fire-smoke-damage-restoration/how-do-professionals-remove-soot-and-smoke-residues-from-ceilings
https://www.servprocanogaparkwesthills.com/blog/post/89321/storm/the-right-restoration-team-for-your-canoga-park-flood-damage
https://www.servprocanogaparkwesthills.com/blog/post/241392/why-servpro/how-does-flooding-impact-local-cell-phone-service-in-canoga-park
https://www.servprocanogaparkwesthills.com/before-after-photos/photo/367b792d-752a-4937-8a42-54ff4ea6e42a/why-servpro/fire-damage-repair-in-west-hills
https://www.servprocanogaparkwesthills.com/blog/mold-removal-remediation
https://www.servprocanogaparkwesthills.com/blog/fire-smoke-damage-restoration
https://www.servprocanogaparkwesthills.com/video-content/archive
https://www.servprocanogaparkwesthills.com/before-after-photos/photo/7a6bab0c-e1a0-488d-a39e-d080d3f980fc/commercial/commercial-water-damage—west-hills-office-building
https://www.servprocanogaparkwesthills.com/blog/post/177127/why-servpro/smoke-and-odors-create-poor-air-quality-in-the-canoga-park-area-post-wildfires–call-servpro-for-cleanup-
https://www.servprocanogaparkwesthills.com/blog/post/9652/water-damage-restoration/fast-water-extraction-mitigates-water-damage-in-canoga-park
https://www.servprocanogaparkwesthills.com/winnetka-ca-mold-removal-remediation
https://www.servprocanogaparkwesthills.com/blog/post/266955/commercial/prompt-response-for-commercial-flood-damage-in-canoga-park
https://www.servprocanogaparkwesthills.com/blog/post/104226/storm/restoring-flood-damaged-property-in-canoga-park
https://www.servprocanogaparkwesthills.com/blog/post/159619/why-servpro/flooded-or-burnt-out-of-your-canoga-park-home-mold-or-water-damage-have-you-down-call-servpro-for-a-picker-upper
https://www.servprocanogaparkwesthills.com/before-after-photos/photo/9401b82c-6a02-4eb5-b587-4b1ed2bcbdcc/fire-smoke-damage-restoration/fire-damage-in-canoga-park
https://www.servprocanogaparkwesthills.com/before-after-photos/photo/b0d92b35-d830-4e77-afdc-70f3822c2132/commercial/commercial-water-damage–canoga-park
https://www.servprocanogaparkwesthills.com/blog/post/109538/commercial/how-our-professionals-mitigate-commercial-water-damage-and-foul-odors-in-your-canoga-park-hotel
https://www.servprocanogaparkwesthills.com/blog/post/266957/water-damage-restoration/how-can-west-hills-dwellers-deal-with-water-damage
https://www.servprocanogaparkwesthills.com/blog/post/245975/commercial/do-commercial-businesses-have-to-use-the-restoration-company-recommended-by-the-insurance-company
https://www.servprocanogaparkwesthills.com/video-content/water-damage-restoration
https://www.servprocanogaparkwesthills.com/water-damage-repair
https://www.servprocanogaparkwesthills.com/water-restoration
https://www.servprocanogaparkwesthills.com/blog/post/249076/storm/are-flood-damages-reversible-for-residential-properties
https://www.servprocanogaparkwesthills.com/blog/post/197478/commercial/we-get-you-back-in-business-in-canoga-park-after-a-water-loss
https://www.servprocanogaparkwesthills.com/video-content/video/65f0c4e8-0fe6-4214-b1a7-7434a551527e/why-servpro/for-emergency-or-scheduled-cleanup–restoration-in-canoga-park-call-servpro
https://www.servprocanogaparkwesthills.com/before-after-photos/photo/08b7b0fd-fc6b-4d0b-af6f-af77fb42b092/storm/stormwater-soaking-of-an-engineered-floor-in-winnetka
https://www.servprocanogaparkwesthills.com/winnetka-ca-fire-smoke-damage-restoration
https://www.servprocanogaparkwesthills.com/blog/post/125897/mold-removal-remediation/we-are-the-experts-to-call-when-your–canoga-park-home-is-plagued-by-mold
https://www.servprocanogaparkwesthills.com/blog/post/60430/fire-smoke-damage-restoration/cleaning-fire-damage-in-west-hills
https://www.servprocanogaparkwesthills.com/blog/post/139979/water-damage-restoration/our-crew-is-here-to-help-after-a-water-damage-disaster-in-your-canoga-park-home
https://www.servprocanogaparkwesthills.com/blog/post/159071/fire-smoke-damage-restoration/we-put-the-flames-of-worry-out-in-winnetka-after-a-fire-disaster
https://www.servprocanogaparkwesthills.com/blog/post/168264/commercial/our-experts-can-save-your-water-damaged-property-in-canoga-park
https://www.servprocanogaparkwesthills.com/blog/post/27202/storm/professional-flood-damage-remediation
https://www.servprocanogaparkwesthills.com/blog/post/139253/why-servpro/its-tough-finding-mold-damage-in-west-hills
https://www.servprocanogaparkwesthills.com/blog/post/217012/why-servpro/certified-servpro-cleaned–a-defensive-cleaning-program
https://www.servprocanogaparkwesthills.com/blog/post/70349/water-damage-restoration/water-damage-in-your-winnetka-apartment-building-can-harm-your-personal-belongings
https://www.servprocanogaparkwesthills.com/disaster-recovery
https://www.servprocanogaparkwesthills.com/blog/post/269026/storm/removing-residential-agoura-flood-damage
https://www.servprocanogaparkwesthills.com/blog/post/180344/water-damage-restoration/we-can-help-clean-after-a-pipe-leak-in-your-canoga-park-home
https://www.servprocanogaparkwesthills.com/blog/post/112428/fire-smoke-damage-restoration/get-rid-of-your-fire-damage-problems-in-west-hills-once-and-for-all
https://www.servprocanogaparkwesthills.com/blog/post/115741/fire-smoke-damage-restoration/canoga-park-grapples-with-the-woolsey-wildfireservpro-helps
https://www.servprocanogaparkwesthills.com/before-after-photos/mold-removal-remediation
https://www.servprocanogaparkwesthills.com/blog/post/27934/mold-removal-remediation/assessment-and-planning-before-mold-remediation-in-canoga-park
https://www.servprocanogaparkwesthills.com/before-after-photos/photo/10e6cbe3-0b74-449a-aa69-430e523ac4ad/why-servpro/canoga-park-flooding-help-from-servpro
https://www.servprocanogaparkwesthills.com/blog/post/19202/water-damage-restoration/first-class-cleanup-for-water-damage
https://www.servprocanogaparkwesthills.com/blog/post/114892/water-damage-restoration/our-team-at-servpro-can-handle-any-size-water-damage-disaster-in-your-canoga-park-home
https://www.servprocanogaparkwesthills.com/blog/post/97161/storm/servpro-offers-flood-damage-restoration-in-canoga-park
https://www.servprocanogaparkwesthills.com/blog/post/260163/water-damage-restoration/winnetka-fitness-enthusiasts-should-take-a-look-at-this
https://www.servprocanogaparkwesthills.com/blog/post/66013/commercial/commercial-water-damage-can-affect-spas-and-gyms-in-canoga-park
https://www.servprocanogaparkwesthills.com/blog/post/10646/fire-smoke-damage-restoration/canoga-park-fire-damage-advice
https://www.servprocanogaparkwesthills.com/blog/post/253596/commercial/west-hills-residents–experience-the-virtual-skirball-center-hanukkah-celebration
https://www.servprocanogaparkwesthills.com/blog/post/162307/water-damage-restoration/our-water-damage-professionals-can-save-your-canoga-park-home
https://www.servprocanogaparkwesthills.com/blog/post/113943/why-servpro/fast-action-is-required-when-mold-is-located-in-your-canoga-park-property
https://www.servprocanogaparkwesthills.com/blog/post/151944/water-damage-restoration/what-canoga-parkwest-hills-must-know-about-costly-water-damage-from-leaks
https://www.servprocanogaparkwesthills.com/blog/post/120460/mold-removal-remediation/our-experts-explain-why-it-is-better-to-remove-rather-than-kill-the-mold-infestation-in-your-canoga-park-home
https://www.servprocanogaparkwesthills.com/before-after-photos/photo/be9d41e8-224e-47b4-aa68-46a32be1de39/water-damage-restoration/water-damage-in-a-canoga-park-ceiling
https://www.servprocanogaparkwesthills.com/blog/post/208449/why-servpro/canoga-park-neighbors-disinfect-to-help-prevent-the-spread-of-the-virus
https://www.servprocanogaparkwesthills.com/blog/post/91524/commercial/servpro-provides-safe-and-low-profile-water-removal-for-schools-in-canoga-park
https://www.servprocanogaparkwesthills.com/blog/post/192589/why-servpro/flood-damage-loss-in-your-canoga-park-home
https://www.servprocanogaparkwesthills.com/blog/post/180582/why-servpro/servpro-explains-the-dangers-in-a-canoga-park-home-after-a-water-loss
https://www.servprocanogaparkwesthills.com/video-content/video/2c37f89e-22b1-4c6a-b874-806fc4772e6b/commercial/fast-service-if-water-or-fire-disaster-strikes-your-canoga-park-business
https://www.servprocanogaparkwesthills.com/blog/post/223317/commercial/how-do-i-clean-up-after-widespread-water-loss-in-a-canoga-park-high-school-
https://www.servprocanogaparkwesthills.com/blog/post/216862/storm/what-qualifications-should-i-look-for-when-hiring-flood-restoration-services
https://www.servprocanogaparkwesthills.com/fire-cleanup
https://www.servprocanogaparkwesthills.com/video-content/video/4f1e5d76-8a15-40cf-a687-69f5a0b6fb1d/fire-smoke-damage-restoration/a-surprise-fire-loss-to-your-canoga-park-property
https://www.servprocanogaparkwesthills.com/blog/post/117057/why-servpro/revealed-making-a-quick-educated-choice-about-water-damage-remediation-in-canoga-park-is-crucial
https://www.servprocanogaparkwesthills.com/blog/post/196566/water-damage-restoration/water-damage-in-your-canoga-park-home
https://www.servprocanogaparkwesthills.com/blog/post/55630/commercial/commercial-water-damage-puts-the-damper-on-the-image-of-canoga-park-retailers
https://www.servprocanogaparkwesthills.com/blog/post/237288/water-damage-restoration/how-do-i-make-sure-my-ceiling-does-not-collapse-after-a-water-leak
https://www.servprocanogaparkwesthills.com/blog/post/128440/storm/you-need-the-experts-at-servpro-when-your-canoga-park-home-experiences-a-flood-damage-disaster
https://www.servprocanogaparkwesthills.com/blog/post/233773/commercial/does-water-damage-restoration-include-office-furniture
https://www.servprocanogaparkwesthills.com/before-after-photos/photo/a5472127-c202-45bd-95b8-693b67ef02e6/storm/storm-water-soaking-in-canoga-park
https://www.servprocanogaparkwesthills.com/before-after-photos/photo/6baa79d6-9b6b-4a0a-95bf-4621372c8cde/commercial/flooded-office-floor–canoga-park
https://www.servprocanogaparkwesthills.com/before-after-photos/archive/fire-smoke-damage-restoration
https://www.servprocanogaparkwesthills.com/before-after-photos/photo/42039d5b-fa2b-460b-9592-889f882b6e9f/commercial/canoga-park-commercial-mold-remediation
https://www.servprocanogaparkwesthills.com/before-after-photos/commercial