2023 Hurricane Names: Know Your Enemy and Be Prepared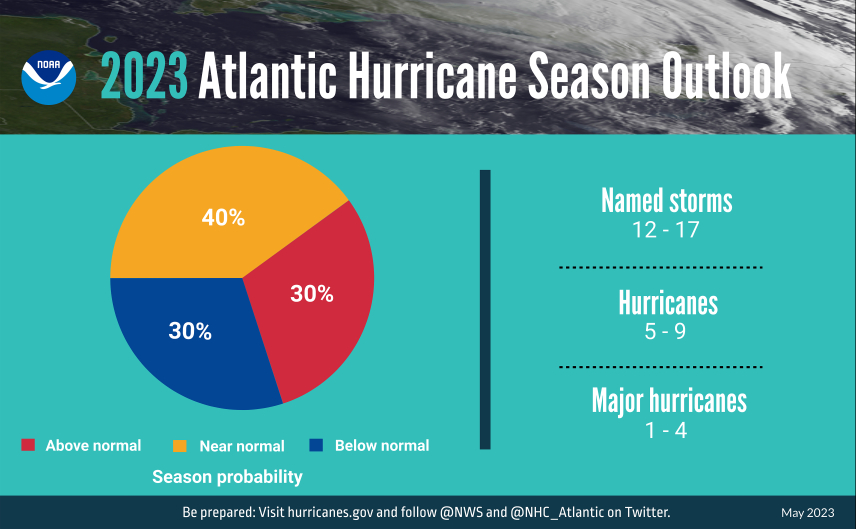 Here are the projected hurricane names for the 2023 hurricane season. 
| | | |
| --- | --- | --- |
| Arlene | Harold | Ophelia |
| Bret | Idalia | Philippe |
| Cindy | Jose | Rina |
| Don | Katia | Sean |
| Emily | Lee | Tammy |
| Franklin | Margot | Vince |
| Gert | Nigel | Whitney |
Now that you know the names, let's talk about being prepared for the 2023 Hurricane Season
Hurricane Preparedness Guide for the 2023 Atlantic Hurricane Season
As we enter the Atlantic hurricane season, which spans from June 1 to November 30, it's crucial to be well-prepared and informed. These powerful storms can cause significant damage, disrupt daily life, and pose risks to personal safety. By following a comprehensive hurricane preparedness plan, you can minimize the potential impact and ensure the safety of yourself and your loved ones. In this article, we will provide essential tips and guidelines to help you navigate the 2023 Atlantic hurricane season with confidence.
Stay Informed: Keeping track of weather updates and staying informed is paramount during hurricane season. Utilize reliable sources such as the National Hurricane Center (NHC), local news channels, or weather apps to monitor storm developments, track potential paths, and receive official updates and warnings. Familiarize yourself with the hurricane categories and their potential impacts to better understand the severity of approaching storms.

Create an Emergency Plan: Developing a well-thought-out emergency plan is crucial for ensuring the safety and well-being of your family. Consider the following key elements:

a. Evacuation Routes: Identify the evacuation routes in your area and determine the safest locations to seek shelter. Plan for potential evacuation orders and ensure everyone in your household knows the designated meeting point.

b. Emergency Supplies: Prepare an emergency kit that includes essential items such as non-perishable food, drinking water, medications, first aid supplies, flashlights, batteries, and important documents. Aim to have supplies to last at least three days. 

c. Communication Plan: 2023 Edit:  Keep your phones charged, use a local weather app to get updates in case the electricity goes out.  Establish a communication plan with your family and friends. Share contact information and designate an out-of-state contact person who can serve as a central point for updates and information.
Secure Your Property: Take proactive measures to protect your property from potential hurricane damage:

a. Reinforce Windows and Doors: Install storm shutters or pre-cut plywood to protect windows and doors from high winds and flying debris. Ensure that all entry points are secure.

b. Trim Trees and Secure Outdoor Items: Trim branches that could potentially fall on your property during strong winds. Secure outdoor furniture, equipment, and loose items that could become projectiles.

c. Clear Gutters and Drains: Remove debris from gutters and drains to prevent blockages and ensure proper water drainage during heavy rainfall.

Review Insurance Coverage: Before hurricane season begins, review your insurance policies to ensure they adequately cover potential damages caused by hurricanes, including wind damage, flood damage, and other related risks. Consider obtaining flood insurance if you reside in a high-risk area, as standard homeowners' insurance policies typically do not cover flood damage.

Plan for Power Outages: Power outages are common during hurricanes. Prepare accordingly:

a. Stock Up on Supplies: Have ample battery reserves, flashlights, and battery-operated radios for staying informed. Consider purchasing a portable generator, but ensure safe usage and follow all manufacturer guidelines.

b. Preserve Food: If power outages are anticipated, minimize opening refrigerators and freezers to keep perishable food fresh for longer. Use coolers with ice to store essential items.

Follow Evacuation Orders and Alerts: If local authorities issue evacuation orders or alerts, follow them promptly and evacuate to designated shelters or safer locations. Your safety should always be the top priority.
The 2023 Atlantic hurricane season is upon us, and being well-prepared is essential for protecting lives and properties. By staying informed, creating an emergency plan, securing your property, reviewing insurance coverage, and preparing for power outages, you can navigate this hurricane season with confidence. Remember to stay vigilant, follow official guidelines, and prioritize the safety of yourself and your loved ones. Stay informed