Have a Water Damaged Building Learn What to Do About it Here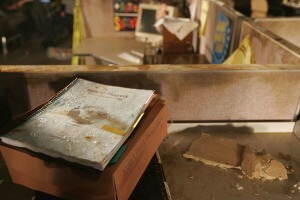 Water damage is one of the worst types of damage that can occur to a building because it can affect the structure of the building if rotting occurs. If you have water damage, there are steps to take to prevent the damage from occurring. Here is what you need to know:
1. What is Water Damage Restoration?
Water damage restoration describes the "process of restoring a property to pre-loss condition." In general, the IICRC and RIA will suggest a standard of procedure to handle water damage restoration. This procedure is outlined in the S500 and is based on restoration principles and other research. It is constantly being revised, but the basic principles will remain the same. The best practices from the scientific community, the disaster restoration industry, and the restoration schools are employed.
2. Be Sure to Obtain a Loss Assessment and Evaluation
All of the materials affected by water damage should be documented. To determine the reimbursement for any damaged items, you should refer to the industry standard pricing guides. The Blue Book is one of the common guides used to determine the value of the most popular materials and items lost during a water damage incident.
Water sensing equipment can be used to determine how much damage is done. Infrared tools are some of the best tools used for assessment. Water sensing equipment with probes may also be used. SmallOfficeDamage_Tech
After the problem is assessed, clean-up can begin. At this time, any areas that were affected can be cleaned, repaired, and deodorized. This is a part of the final stages of restoring the damaged area back to normal. Any sanitation should also be conducted if there were any feces, urine, or other bacterial waste involved in the damage.
3. Contact an Experienced Expert
An expert can help you know what to do if you have extensive water damage. Although the steps may be evident to some, it's not always evident to everyone. Contact an expert to ensure that you don't miss a step that may result in unexpected structural damage later. There are numerous water damage experts located in the major markets that can help business owners.
What You Should Do About the Water Damaged Business?
If you want to know what to do about your water damaged business, we suggest that you follow the steps and get it done. Handle all water damaged business as quickly as possible to avoid significant damage on you building. Some types of water damage could be irreparable. Don't wait until it's too late because the costs of repair or rebuild will be even more expensive than expected. Take precautionary measures to ensure that you can restore your building back to its original condition.
Related Articles
fire damage bel air
flood damage bel air
mold damage bel air
water removal west hollywood
flood damage west hollywood
water damage west hollywood