Smoke Damage: What To Do After it Happens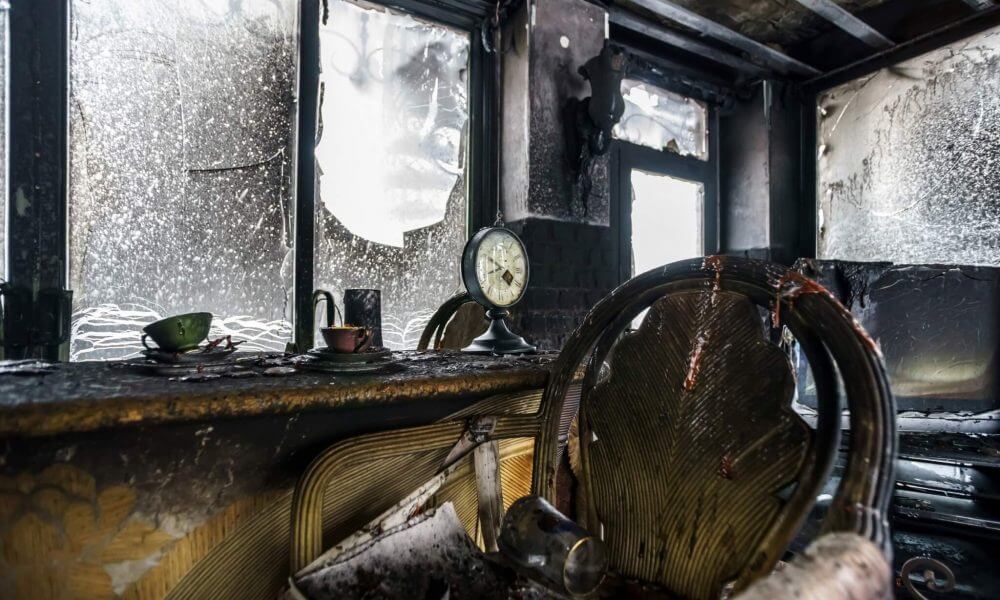 Smoke and fire damage can take a tremendous toll on structures and the property they contain. Fast actions are essential for limiting the amount of devastation that fires cause. The IICRC of the Institute of Inspection Cleaning And Restoration Certification is an organization that is known throughout the world for attempting to create higher standards within the fire and water restoration industry. Consumers can use the IICRC as a referral service to connect with companies that provide services that are significantly superior to those of their competitors that are not certified.
If the cleaning process is delayed, fire damages can spiral out of control and restoration costs will begin to mount. By expediting the process and using a technician that is certified by the IICRC, homeowners can put a quick stop to fire damage and can start the repair process.
Just minutes after a fire, what happens?
Soot particulates and residues start to settle immediately after a fire has been put out. Porous surfaces will be permanently discolored, however, non-porous items may be professionally cleaned to restore their appearance and usability. Other surfaces can be stained by acidic soot if this is not removed and cleaned right away.
All surfaces can sustain smoke and fire damage within just hours. It may be necessary to refinish wood furnishing. Metal can start to pit, rust and corrode. Walls that have been painted will take on a yellowish hue. Permanent stains can develop on clothes. Last, flooring may need to be replaced or refinished.
The restoration process will become far more expensive and time-consuming if left untreated for weeks. Prolonged exposure to soot will cause permanent damages to all fibers and soot will become embedded within the fibers of these things. At this time, the best option may be to simply replace property. If it is not properly restored, the structure will likely continue to deteriorate over time.
After a fire, the IICRC recommends taking the following steps.
•    Make safety a priority. Never enter the home without putting on work gloves and using protection for your respiratory system. Soot exposure can result in medical emergencies, including respiratory distress.
•    Take box fans in with you. After you have entered the property, open the windows and put the box fans in the sills to reduce smoke damage and the likelihood of personal injury.
•    Use a professional dry cleaning sponge to remove loose smoke contamination.
•    Clean all surface with soap and water. Start at the top of a surface and gradually work down.
•    Clean the interior of all cupboards and cabinets.
•    Vacuum all carpeting, furnishings and upholstery with a vacuum cleaner that has a High-Efficiency Particulate filter or HEPA filter. Vacuums with superior filtration systems will keep soot from reentering areas that have already been cleaned. This filter should be changed or cleaned regularly.
•    Wash all clothing, curtains, bedding and other washable items. An alkaline detergent can neutralize the acid in a suit. Professional dry cleaners should treat delicate garments and materials.
•    Attach your water hose to an appropriate cleaner to clean all eaves and exterior walls. Loosen soot that is stuck in place. Until all soot is removed, smoke damage at the exterior of the home will continue to progress.
While residues that are dense and tough with merit the help of a smoke and fire damage restoration service, these professionals can assist with all types of smoke damage. Using the wrong restoration methods could cause additional harm to your home and your personal belongings.
IICRC certified technicians have the experience, knowledge and training in providing the best property restoration techniques. If warping or other forms of structural distortion exist, it could be necessary to speak with a general contractor. Fortunately, most restoration costs will likely be covered by your insurance provider, minus your deductible and this means that you get started on bringing your property back to its former glory right now.
Category: Water Damage Restoration – Jacksonville, Florida  – United States
flood damage Jacksonville
mold damage Jacksonville
flood damage Arlington
mold damage Arlington
water removal Arlington
fire damage Jacksonville
water damage Jacksonville
water damage Arlington
fire damage Arlington
water removal Jacksonville